THE MAGIC OF BULGARIAN VOICES
from opera favorites to classical songs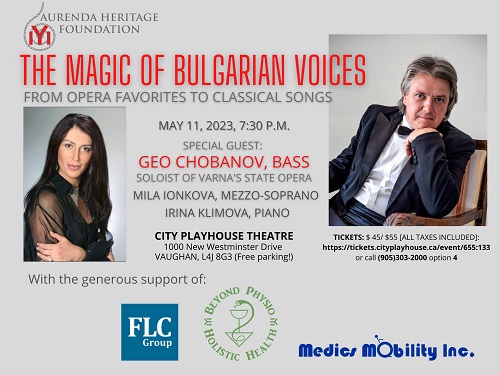 We are excited to invite you to an unforgettable journey of beloved musical masterpieces. For the First time in Canada, Aurenda Heritage Foundation presents:  Geo Chobanov - one of the finest contemporary Bulgarian basses and the Canadian mezzo-soprano Mila Ionkova.
Mila's glamorous stage presence and undisputed talent combined with Geo's magnificent voice will keep you captivated in the magic of timeless classical tunes.  They will be accompanied by the extraordinary performance of our pianist Irina Klimova, graduate of the prestigious Ural State Music Conservatory. In the program:
Arias and duets from Mozart, Rossini, Donizetti, Verdi, Gounod, Bizet, Vladigerov. Music's all-time favorites: Neapolitan canzonetti, Russian romances, Bulgarian and Jewish songs.
Estimated Concert Length: 1st half: 45 minutes - 20 minutes intermission - 2nd half: 45 minutes